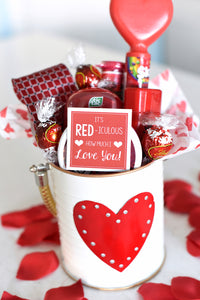 Unique Valentine's Day Gift Ideas for Her
https://arrascreations.com/collections/necklace/products/22-ct-interlocking-hearts-necklace-with-cz 
Valentine's Day is the time to channel your romantic side by presenting a gift to the special woman in your life. When February 14 comes around, you do everything to wow your girl with a gift that gets her interest. While flowers, chocolates, and teddy bears are acclaimed as romantic gifts but think outside the box by choosing some unique gifts for her. Here, we have a list of thoughtful gift ideas that will make her feel the love on Valentine's Day and beyond. 
Melded Hearts Rhodium Stud Earrings
https://arrascreations.com/collections/earrings/products/17-ct-melded-hearts-rhodium-and-cz-stud-earrings 
A little sparkle never hurts. These lovely and elegant .17 ct melded heart stud earrings crafted with rhodium plating are just enough glitz for a special occasion, but still good for everyday wear. The design features two hearts, one dazzling with round zirconia and the other is steadfast with just the metal. These earrings are perfect to celebrate a romantic relationship between you both. 
Long Front Open Cardigan with Pocket 
https://arrascreations.com/collections/cardigan/products/act2-j3952-id-36284?variant=28931662741581  
Cardigan is perfect for days when lounging around the house or for adding a pop of color to the outfit. As the weather will be still cool around Valentine's Day, you can gift her lightweight long front open cardigan with pockets to keep her warm and cozy. You can pick the cardigan in bright hues or go for an eye-popping design to hug her gently accompanying her forever. The fine workmanship and lose fit give the cardigan a cool look and the wearer a dapper look. 
Designer Chiffon Scarf
https://arrascreations.com/collections/scarf/products/fbj2-jj-1303002b-id-38695?variant=28933564989517 
Gift a luxurious designer chiffon scarf this Valentine's Day to your lady love. She will be stunned by the look of playful mustache print that defines this red chiffon scarf. The scarf is handmade with the edge rolled and stitched by hand and the print is digitally applied to create a sense of playful design that she will love wearing around. 
Vintage Bohemian Tassel Ethnic Necklace
https://arrascreations.com/collections/oxidized-tribal-necklace/products/arras-creations-fashion-belly-dance-vintage-bohemian-tassel-gypsy-ethnic-necklace-for-women-azbtbn029?variant=28931956375629 
Beautiful fashion statement jewelry makes every woman feel more confident and stylish. so, you can choose a vintage bohemian tassel ethnic necklace to wow her. This multilayer necklace is handcrafted to perfection rendering a stunning look and superior finish. Available in gold and silver, this gorgeous necklace makes the perfect and unique Valentine's Day gift for her that she will love to flaunt around. 
Off Shoulder Cutout Sleeve Top
https://arrascreations.com/collections/top/products/iri2-it11039-id-39104b?variant=28933065834573 
Why not go all in and embrace the romance in the air by gifting your special lady an off-shoulder cutout sleeve top. The beautifully designed top adds a glamorous look and an elegant charm to her personality. With a large, extended neckline, off shoulder cutout sleeve top is sexy and elegant at the same time. You can choose the top in solid red color, bold prints, or playful patterns. 
Quilted Mini Shoulder Bag
https://arrascreations.com/collections/handbag/products/vmm-25431-id-35502?variant=28931898015821
Your special lady might have a wardrobe teeming up with bags in every color and design imaginable, but more bags are always acceptable. You can never go wrong with a classic, quilted mini shoulder bag in red or any other color with a rhinestone accent. Super cute and chic, the micro companions are all she needs to make a huge statement.  
These are a few unique Valentine's Day gifts you can give your charming lady and see a broad smile dazzle across her face. 
Have you planned on any Valentine's Day gifts? If not, then log on to Arras Creations and find unique gifts that will mesmerize her. 
---